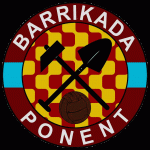 The second Antifascist Ultras Països Catalans was held in Sant Andreu (Barcelona), in the Narcis Sala stadium on the 11th of july 2015. In the football 7 tournament many Antifa groups of the country participated.
These where:
Cornehools,
Rudes Lleida,
Desperdicis,
Nàstic Crew,
Barrikada Ponent,
Kol·lectiu Degà,
Barricada Albinegra,
GAK Blanes
invited also to the tournament was Avispero of Real Zaragoza.
the tournament is mainly held to promote Antira spirit and to strenghen the brotherhood with the other groups.
For the record the final witnessed the teams of Barrikada Ponent vs Cornehools going head to head in what proved to be a very close matched game that kept everyone at the edge of their seats. Final score was 2-2 and the game moved to a penalty shoot-out in which Barrikada Ponent hit the target and won the encounter and the trophy.
A great day with like-minded Antifa Ultras, cause
The league may stop, but Ultras don't!