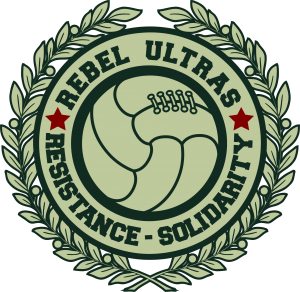 Atmosphere at football is often seen as a defining aspect of a club's identity; the rapturous nature of the Kop at Anfield, Old Trafford's Stretford End and the Holte End at Villa Park are all enshrined in club folklore, exemplifying their character, unity and originality. However, with the introduction of all-seater stadia, the squeezing out of fans of a low income and the notable sanitation of British football grounds, atmosphere has markedly suffered as a result.
Subsequently, there has in recent years been a up-swell of enthusiasm for the recapturing of what is a quintessential part of being a football fan. The seductive bluster of a feverish crowd in full voice is what first attracts many to the game in the first place – without atmosphere, we risk being pulled into an American-style form of spectatorship, devoid of passion but bristling with superficial theatrics.
With this prospect all too apparent, the emergence of various 'Ultra' groups have become a prominent feature of many British clubs, emulating the Italian model of groups established with the intention of improving atmosphere at grounds. Often misconceived to be associated with racism and violence, whereas in reality only a small percentage of groups or members are politically motivated or harbour extremist views. This association, however, is hard to shake off; as a result, many are unwilling to embrace the idea of Ultras in UK grounds. If they were able to extend their perspective beyond narrow fallacy, they would see a group of like-minded people who are bringing colour, noise, passion and intensity back into football.
Perhaps the first group to emerge were Aberdeen's Red Army in 1999, and since then many supporters have followed suit in establishing Ultras sections at their club. Following some years later, Celtic's Green Brigade have established themselves as one of the most visible entities of the Celtic matchday experience. Declaring themselves as 'anti-fascist, anti-racist and anti-sectarian', the group were recently heralded my manager Neil Lennon and despite occasionally courting controversy, remain a gratifying example of the Ultra model.
In the lower leagues of English football particularly, we have seen an exceptional increase in Ultra activity: supporters of Aldershot, York, Accrington, Oxford and Crystal Palace in particular have made great effort to improve matchday atmosphere, often partaking in mass sychronised displays of banners, giant flags and smoke bombs alike as well as generating noise seldom seen in many English grounds, both at home and away.
Taking increasing influence from the South American model of exhibitionist 'tifos', British ultras are bringing much needed vibrancy to our stadiums, often injecting new life into the soulless, duplicate arenas that many grounds have now become. Regulations, however, have made the functioning of Ultras groups progressively more difficult: many clubs now forbid flags or banners on draconian Health and Safety grounds, whilst the stigma attached to the term means many clubs are reluctant to engage with groups in fear of being tarnished. As thus, the co-ordination of displays is made discernibly more troublesome and groups are unable to develop positive relationships with their club, at the detriment of both parties.
Interestingly, there is a growing verve for Ultra activity higher up the ladder, as supporters grow weary of the commercialised, desolate demeanour which characterises many top flight grounds. At times, nowhere was as desolate than Villa Park this season – yet Brigada 1874, of permanent residence in the corner of the Holte End, have made resolute efforts infuse a greater sense of positivity and partisanship to Aston Villa. Likewise, supporters of cross-city rivals Birmingham City are using the recently established Forza Blues group as a means of reigniting passions at St Andrews.
Though making significant progress in the moulding of negative perceptions, Ultras groups still remain on the fringes of the football world in the UK, something which must be altered if the decline of atmosphere at British grounds is to be halted. Too often tarred with the hooligan brush, the limited vision of authorities, clubs and commanding figures is prohibiting the rightful spread Ultra culture, as archaic assumptions prevail before reasoned judgement.
Increased co-operation between clubs and groups does mark notable improvements, yet more needs to be done to promote assimilation of Ultras into mainstream British footballing culture in order to prevent our grounds falling further into the stagnant, stale and passive quagmire.